So you've talked to talk on your CV, but who's there to prove you've walked the walk? This is where a job reference is required. But what is a job reference? A job reference involves a referee, a person of your choice, who is contacted by a potential employer usually via call or writing to understand more about your character and how you performed at your recent jobs. Referees act as your personal advocates and testify honestly about your personality, skills and abilities after being contacted or through job reference letters.
This is one of the final stages of the recruitment process and can make or break your chances of landing that dream role. So it's critical that you know how to correctly acquire a job reference and if necessary, format it properly on your CV too. This article will explain when a job reference is and isn't necessary on your CV, tell you what to include in a reference and show some reference examples too. Don't have any upcoming interviews yet? Then check out Studentjob's 1000s of vacancies and start applying today.

Do you need to put a job reference on your CV?
So, do you actually need to include your references on your CV? Depending on the circumstances, the answer can be yes AND no. Including a reference list on your CV is not required as references are not used at the early stages of the job selection process and it can end up taking unnecessary space on your CV. However, there are valid reasons to include references on your CV too.

Reasons to include a reference list
To fill up blank space
To put it simply, sometimes you just need to fill space. Especially if you have recently left education or lack work experience, your CV could be looking quite bare and lacking content. The expected 2 pages of A4 can be difficult to fill for some and adding job references to the bottom can improve the presentation of your CV and make it look more complete. So if you find yourself with any additional space on your CV, then it might be best to add some references.
To impress the recruiter
If you are proud of the job references you have acquired and think it adds value to your application, then, by all means, include it. A respectable or recognisable referee may impress employers and improve your chances of moving to the next stage of the recruitment process. Everything counts in your application and you should utilise the strongest parts of your application to maximise your chances of success.
To give your CV more credibility
Adding job references to your CV can give the impression that you have a strong track career record with nothing to hide, something employers will appreciate and value. Including a reference list can add credibility to your application because it demonstrates you have confidence in your CV. Showing you have referees who can vouch for what you're saying will improve the legitimacy of your application and that can't be a bad thing.
You have been requested to in the job description
There are cases at the early stages of the recruitment process where employers will require CV references or even an employment reference letter. This is uncommon, however, as references are not used until the later stages of the recruitment. If the job description states you should include job references, then absolutely include them. But if it doesn't, then don't waste space on your CV including it.

Reasons not to include a job reference list
Most of the time you shouldn't need to include a reference list for the following reasons.
They are not required
As previously mentioned, employers won't contact your references until the final stages of the job search process, and they can easily contact you to acquire your references at any point. This means the majority of the time putting your references on your CV is irrelevant and not required. However, it would still be worth your time to prepare who your referees will be before you begin applying to job roles, so you should have them ready when they are needed.
It takes up valuable space
When formatting your CV, you need to make sure to include the most important and relevant information, fit it on 2 pages of A4 and space the sections so it looks professional and not clustered. So unless you don't have enough work experience to fill the space, focus on utilizing the important sections to make your CV stand out. Including a reference list can take up valuable space on your CV, so make sure you can include all the key sections first and prioritize them as this will strengthen your job application more than including a job reference list will.
You don't have two appropriate references
If you don't have at least two relevant references you would be proud to use on your application, then definitely don't include them. Your referees should meet the criteria explained in the next section, and if they don't then including them may actually do your application more harm than good. If you have been recently fired or dismissed by a recent employer, then you will not receive an endorsement that will help your chances of landing a job. Your former employer can give you a bad reference if they genuinely believe it to be true. So don't take that risk for the sake of having a reference.
If you're applying for a high-level role, then your manager from the crazy golf place you worked at when you were 15 won't be a good referee either. Your job reference should ideally be relevant to the industry you're applying to.

Who can be a job reference?
You should choose your referee carefully, as you want them to clearly promote your best characteristics and strengths as a candidate. Suitable referees are friendly yet professional and well-spoken. Your referee could be your:
Previous/current employer(s)
Previous/current manager or supervisor
Professor or academic supervisor
Professional colleague

You definitely shouldn't use family or friends as job references, as they are seen as biased and unreliable by recruiters. They will be able to tell if you have used your friends as referees as many employers will check social media. If you're using your employer or manager, it is common practice to use your most recent one. This is because recruiters may become suspicious you are hiding something about your last job that you don't want them to know. Honesty and transparency is important to a good job reference and you want to avoid raising questions that may weaken your job application. So use your previous employer as a reference.
It is strongly recommended and good etiquette to contact and check with your referee before using them on your CV. Make sure they are aware they may be contacted for a reference and they're okay with what details you include, as some may not want their phone number disclosed.

How to structure a reference
You should aim to include 2-3 references on your CV, you shouldn't include just 1 or more than 3. Including more than 3 wastes space and is unnecessary, simply pick your 2-3 best references instead. You need to prepare at least one character reference and one professional reference.
What is a character reference?
Your character or personal reference should come from someone you know in a personal setting rather than a strictly work reference. The referee should describe your personality, work ethic and soft skills in an honest and sincere manner. This reference is less important than a professional one but still plays a part in whether a candidate is hired or not.
What is a professional reference?
A referee vouches for the candidate's work strengths, skills, work ethic and achievements. In short, confirming the candidate's job qualifications are suitable for the role they are applying for is what is considered a professional reference.
So what do you need to include in your reference list? Start with the reference's full name and job title. Below that mention the referee's company and optionally the work address. Today, most employers won't contact references via post, so the address isn't necessary. With permission of the referee, clearly add their work telephone number and email address so they can easily be contacted. Most referees don't want their personal phone numbers or email addresses shared around so be sure not to include them unless given permission.
After the job reference list, include a brief description of your relationship with the referee. This is important to clarify because recruiters should be able to instantly understand what your working relationship to the reference is and how long you've known them. Keep it short and don't overshare, you don't need to add anything more than what has just been mentioned in your reference list. If you aren't including a reference list for any of the previously mentioned reasons, then at the bottom of your CV write "References are available upon request."
When formatting a reference list for your CV, you can either include them as the last section of your CV or acquire a reference letter. You should alphabetically order your references to create a professional-looking CV format. Also remember to make sure any details like the address or phone number isn't too long-winded as this can ruin the presentation of the list.
Job reference example on a CV
Below is a job reference template and an example you can borrow from for your next reference.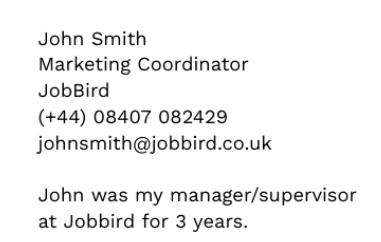 Hopefully now you understand when to include references on your CV and how to properly create a reference list. Jobbird has loads more CV tips to help you build a CV that will land you interview after interview. Or check out Jobirds other application tips so you're set and ready to enter the job market.