A critical aspect of making a great job application is the CV format. To get lots of interviews and land yourself the best roles, the layout and presentation of your CV really count. Even if you have the best work experience, education and skills, formatting that information in an unprofessional or difficult to read way will likely end up with your CV getting rejected.
Although most employers will expect a 'typical CV format' for a job application, this does not mean that all CVs need to have exactly the same formatting. However, any major deviations from the typical CV layout can alienate potential employers, instantly making your job application unsuccessful. In this article, Jobbird will take you through the key content required in a simple CV format and the best way to format your CV for a job application. Once you've got your CV format sorted, make sure to put it to good use and apply to the 1000s of amazing Jobbird vacancies today.

Content required in a CV
Before you can professionally format your CV, you first need to add the correct information. Splitting your content into legible sections will make it much easier for employers or A.I to process the information. A simple CV format would be in the following order and must contain these aspects:
Personal Information: At the start of the CV make sure to include your name, address and contact details so employers can easily contact you.
Personal profile and career summary: While it is important to keep this brief, include a short paragraph explaining who you are and what you specialise in. This works as a "trailer" for the rest of your CV to employers. Remember to add keywords related to the job posting.
Education: A list of the schools, colleges and universities you have attended, what you studied and the results you achieved in reverse chronological order. High school results are less important unless it is your highest form of education so keep it short to save space.
Work experience: Like education, in reverse chronological order show your work history including your job title, company name and dates worked. Bullet point what your responsibilities, skills and accomplishments were.
Skills and achievements: While it's important to showcase your best skills and achievements, recruiters will be looking for the most relevant keywords that are mentioned in the vacancy. So tailor your CV to what the employer is looking for. Remember you can add further detail in your cover letter so get straight to the point.
References: Most employers will want at least 2 references on your CV, both a personal and professional one. Include the contact details of your references so the employer can reach out to them to receive your reference.

You can also add languages, qualifications, societies or relevant interests if relevant
While the above mentioned areas must be included in a good CV layout, you should still play to your strengths. Your age, background and current circumstances might affect how you format your CV, so you should format your CV to maximise the impact of your application. If you are still in education or are looking for your first job, then you should put your focus into the education and skills section and try to relate that back to the role you are applying for. If you have excellent work experience but a poor educational history, you can put your work experience section before your education section to draw the employer's attention to the more important aspect of your CV.
There are things you do not need to put in your CV, however. These include:
Hobbies and interests: These can be useful for purveying personality and filling a CV with a lack of content. But they can also waste valuable space, so if they don't help you stand out then don't bother.
Marital status: These details are protected characteristics under the Equality Act 2010, so you shouldn't list this information.
Age and date of birth: Again, it is illegal for employers to ask about age under the Equality Act 2010, as your age doesn't affect your ability to do a job.
A headshot: In many countries, it's common practice to include a photo of yourself on your CV, but the UK is not one of them. So to avoid any potential discrimination bias, don't include one.
Structure of a great CV format
Length
You now have an idea of the content you need in your CV and how to order it, but how do you turn that information into a professional CV format? For starters, a standard CV in the UK should be no longer than two sides of A4. This is not a one size fits all rule though, as someone with minimal work experience may only need one side of A4. A 3 page CV might also be needed for people who have gained a lot of experience or those seeking high-level roles like medical professionals.
Content management
The best CV layouts are concise and informative. Try and get straight to the relevant and notable information, remember you can go into further detail in your cover letter. However, you want to avoid too much content crossover between the two documents. If you are struggling to edit your CV down to two pages, then cut out any information that is not relevant to the role you're applying to. While it's important to keep your CV short and sweet, you should also avoid selling your experience and skills short.
Titling and listing
You don't need to title your document 'curriculum vitae' or 'CV' as this wastes precious space. Instead, let your name serve as the title. As mentioned before, list your history and achievements in reverse chronological order so the recruiter has an impression of where you're at now. As you have split your content into sections, section headings are a good way to show you have clearly broken up your CV. Ensure the headings stand out by making them larger than the normal text (around 14 to 16) and bold.
Finishing touches
Once you have completed formatting your CV, triple check your spelling, grammar, tenses and names of companies and people. Employers will quickly doubt your application if they notice any mistakes in these areas. Save your CV PDF style to guarantee that it can be seen in its original format on any system.
Not all CVs will be reviewed by people, some companies use applicant tracking systems (ATS). ATS scans and judges online job applications for employers when companies post open vacancies. According to the worldwide report on recruiting automation trends, 75% of talent acquisition professionals claim that AI-based technology will play a large role in their hiring processes in the near future (Zety). So a useful tip to have the best CV format is to tailor each application for the role you are applying to. This will not only help your application to satisfy the ATS but will also persuade employers that you are the perfect candidate.

The best colours and fonts to use on a CV
The visual layout is also very important to consider when making a professional CV layout. Your font, headings, bullet points and use of colour all have a major impact on the CVs presentation.
What fonts to use
Firstly, it is critical that all CV fonts and font sizes are consistent throughout. For example, if you put the name of one company in italics, every other company name must also be in italics. This will keep your CV organized and easy to read. The recommended CV font size of the basic text should be between 10 to 12 so it is easily readable to potential employers. The best CV fonts are easy to read and available on most systems. Good CV font types like Arial, Calibri and Times New Roman are all suitable for a professional-looking CV. Avoid fonts like Comic Sans at all costs as employers will regard you as childish and unprofessional.
What colours to use
Feel free to make a creative CV layout if you feel it would be necessary for the role you are applying to. Using reliable colours like black, white, blue and red are all encouraged to add a nice visual element to a basic CV layout. Be cautious that most employers will find certain colours or too many colours tacky and unprofessional. Try to stick to a colour scheme as well, this will allow you to use more than one colour in a professional-looking way. Also, using the same colour scheme on your cover letter will help show personality and personal branding to recruiters.
Extra formatting tips
On a good CV layout, words and blank spaces are used to your advantage to create a professional look. Use clear spacing and bullet points as they're a great way to draw attention to any relevant information and stop your CV from looking clustered. Don't try to stretch your content over 2 pages using line spacing, 1.0 to 1.5 line spacing is fine and will keep the text clear. Use one-inch margins on all sides to help avoid any important information being cut off on different systems. Following these formatting guidelines will allow recruiters to easily skim your CV and find your significant achievements without having to wade through any filler text.

CV layout examples and where to find CV layout templates
A better way to understand what a good CV format looks like is by looking at useful example CV formats. These sample CV formats will help you to visualise what a professional and easy to read CV layout looks like. The first CV example is clear, precise and looks professional.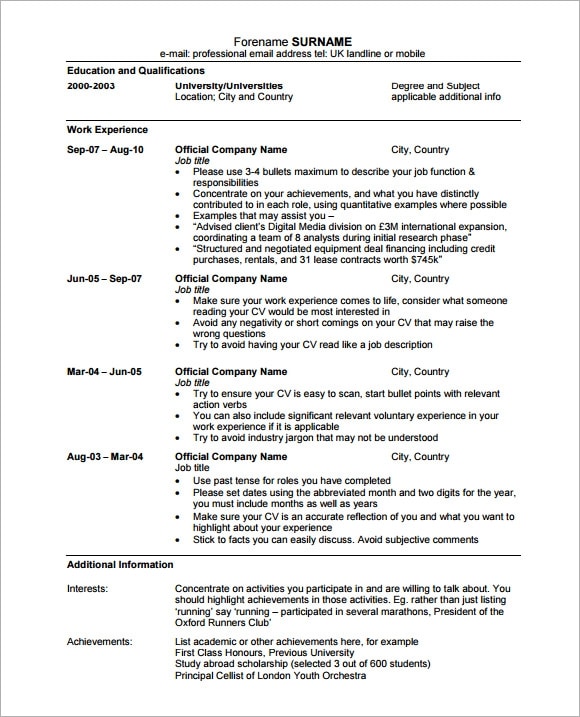 The other free CV layout example is also simplistic, easy to read and uses space well.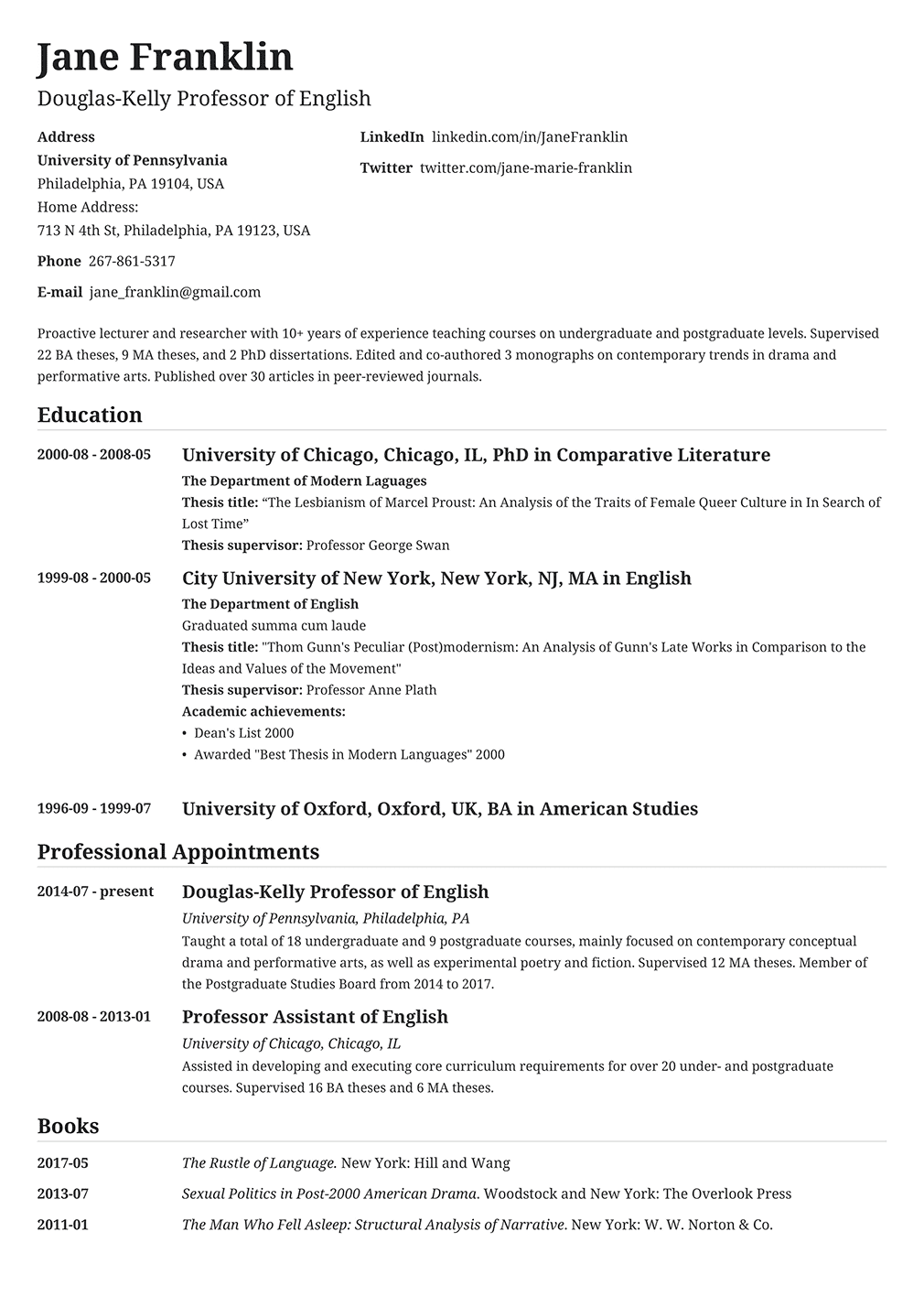 If you're looking for free CV format templates then good places to start are Zety and MS Word. There are loads of free Word CV format templates available for you to choose from if you need any inspiration or guidance.
If you follow all these formatting guidelines, then your CV should be looking professional, neat and easy to read, so congratulations. If you're interested in finding out more CV making tips or other pieces of job application advice, then Jobbird has you covered.