Have you already found a job you want to apply to but don't have any clue on how to write a CV? On this page you'll find CV examples for anyone, ranging from a student with no experience to someone who has been working for years. When it comes to a CV, it is important to understand the format, writing style, and content. The last thing you want is for your CV to look boring and unprofessional. If you have found a job opportunity that you really want but have no idea if your CV is even remotely good, or if you simply do not know how to write one, we have you covered. In this article, we will touch upon the necessities that are needed in a CV to wow your employer. There will be many good CV examples for you to look at and grasp the idea of what employers are really looking for. You can personalize these free cv templates if you don't like things we have added to the template. But if you want to have the overall structure of how to create a good CV, these examples fit the bill.
CV writing format
When thinking about the CV writing format, there are a few dos and don'ts that one must follow. You should always try to maintain a professional style for your CV. This means that your writing style should never be as if you were talking to your friend, in other words, too casual. Your CV needs to be polished because if not, you won't even be considered for an interview and your CV will most likely go in the trash pile, which no one wants. Remember that managers get thousands of applications and if yours is hard to read, contains many errors or the content in the CV does not relate to the job you are applying for, then you will not even be considered. In addition, your CV should always be consistent. This means that your writing style, fonts, bullet points, dashes, etc. should always be the same.
Creating a professional CV
Already have a CV but do you want to add more of a professional touch? Then check out the following tips:
Choose a CV type: When picking out your layout of the CV, make sure it matches the job you are applying for. If you want to be more focused on your previous work experience, pick a chronological layout. But if you want to place greater emphasis on your skills, then a functional style is the way to go, or you can do both, which is called a combination type of CV. Take the time to see what style you want your CV to have.
Picking a font: Picking a font that is easy to read is crucial. You do not want to pick a cursive font because it will be hard to read for the employer and your CV won't be looked at. Therefore, use an appropriate font like Ariel or Times New Roman. Also, keep the font size between 11 and 13, try not to go have huge fonts as it will make your CV look very unprofessional and odd.
A consistent format: To maintain a professional style for your CV, make sure your format remains the same. So, when listing your work experience, if you use numbers, then make sure you use numbers when listing other things like skills. Don't suddenly use bullet points, just stick to one style. Also, don't use different style bullet points.
Keep it short and straight to the point: You might think that writing a lot on your CV is good, well, you're wrong. You do not want to bore the reader as the employer has 100s more CVs to go through. You want to make sure you have at least a sentence explaining your experiences, skills, achievements, and more. If you write too much, the employer won't want to continue reading, and you would probably lose the chance of getting an interview. Remember, a CV is normally about two pages long.
Updating your CV: Make sure you constantly update your CV by adding the work you are currently doing, the new set of skills you acquired, etc.
Have a model sample: Try to follow a good cv sample and follow the structure and style to understand what a professional cv should look like.
Review your CV: Make sure your CV has zero grammatical errors and the language is coherent. Get a friend or a family member to read it for you, just to make sure you did not miss something out.
Ask for advice: Ask your friends or family to maybe even give you their CV so you can compare and see what you forgot. Allow them to give you feedback and make changes for improvement.
Check the CV: Before sending it off, make sure you proofread it one last time.
What to avoid when writing a good CV
You have to be careful when it comes to writing a bad or generic CV. Some things to avoid include:
Having a bad structure or a poorly written CV
Writing very vague sentences which are not supported by any examples related to the job or your previous experiences.
Including irrelevant information.
Putting experiences that you had 20 years ago or as a child because those are irrelevant and it will indicate to your potential employer that you are not serious. So to be more specific, always refer back to jobs that are relevant to the position you are applying for, talk about your skills and give an example of how you obtained that skill or if there was a project that helped you acquire a certain skill.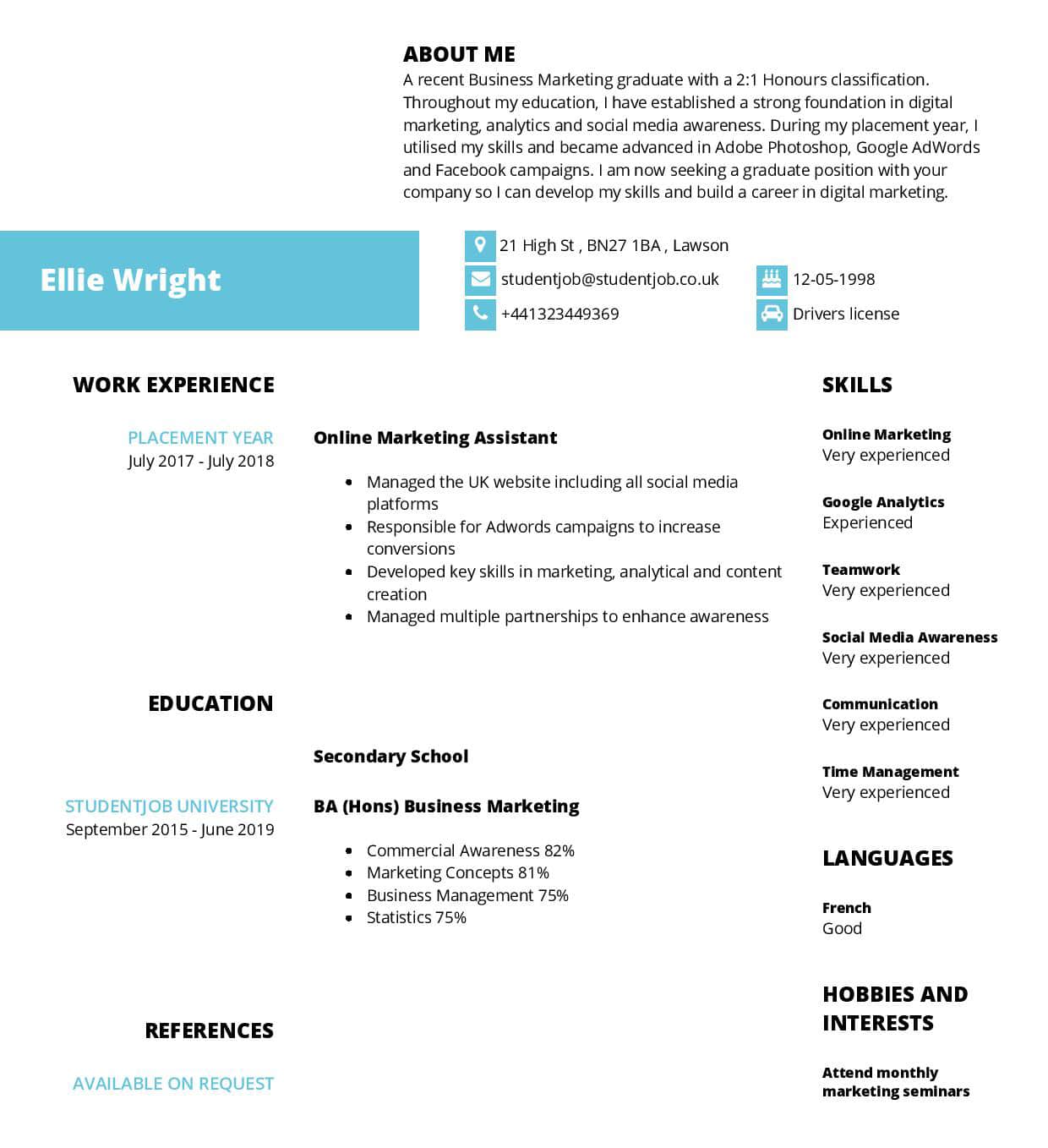 Also keep in mind:
The headings should always have your full name in bold letters and be centered on the page.
When providing an email address try to put a professional address, not one that you created when you were younger and is slightly inappropriate or weird such as mermaidgirl@gmail.com.
You don't need to include your gender, birth date, or nationality. That kind of private information is unnecessary and a waste of space, plus these are protected characteristics, so an employer is not allowed to ask for them
CV examples that will help you land any job
There are tons of different CV examples in the UK you can look at, but this doesn't mean every example is relevant to you. If you're going to apply for a job at a bank, you're obviously looking for a professional CV sample, while for a job as a graphic designer you might prefer to see a good example of a creative CV. Making a resume for a full-time position can also be different to making a CV for an internship. That's why we have collected all kinds of different CV (curriculum vitae) examples for you on this page.
CV example for someone with little experience
Even if you haven't finished your degree or don't have much experience working, you should keep your CV short and concise. Don't fill your CV with irrelevant information. In this example, Joseph has added his work experience and explained in bullet points what he did during his time as retail assistant. As he has recently finished school, his main selling point is his grades, which have clearly been displayed. When you don't have much experience, there is some more space on your CV to add other relevant information, such as your interests.
CV example for a recent graduate
This is an example of what your CV could look like after you've graduated uni. Maybe you've had some more jobs during your time at university, which you could add in the same manner. If your education is more relevant or important than your work experience, you can add more detail here, such as adding your modules and grades.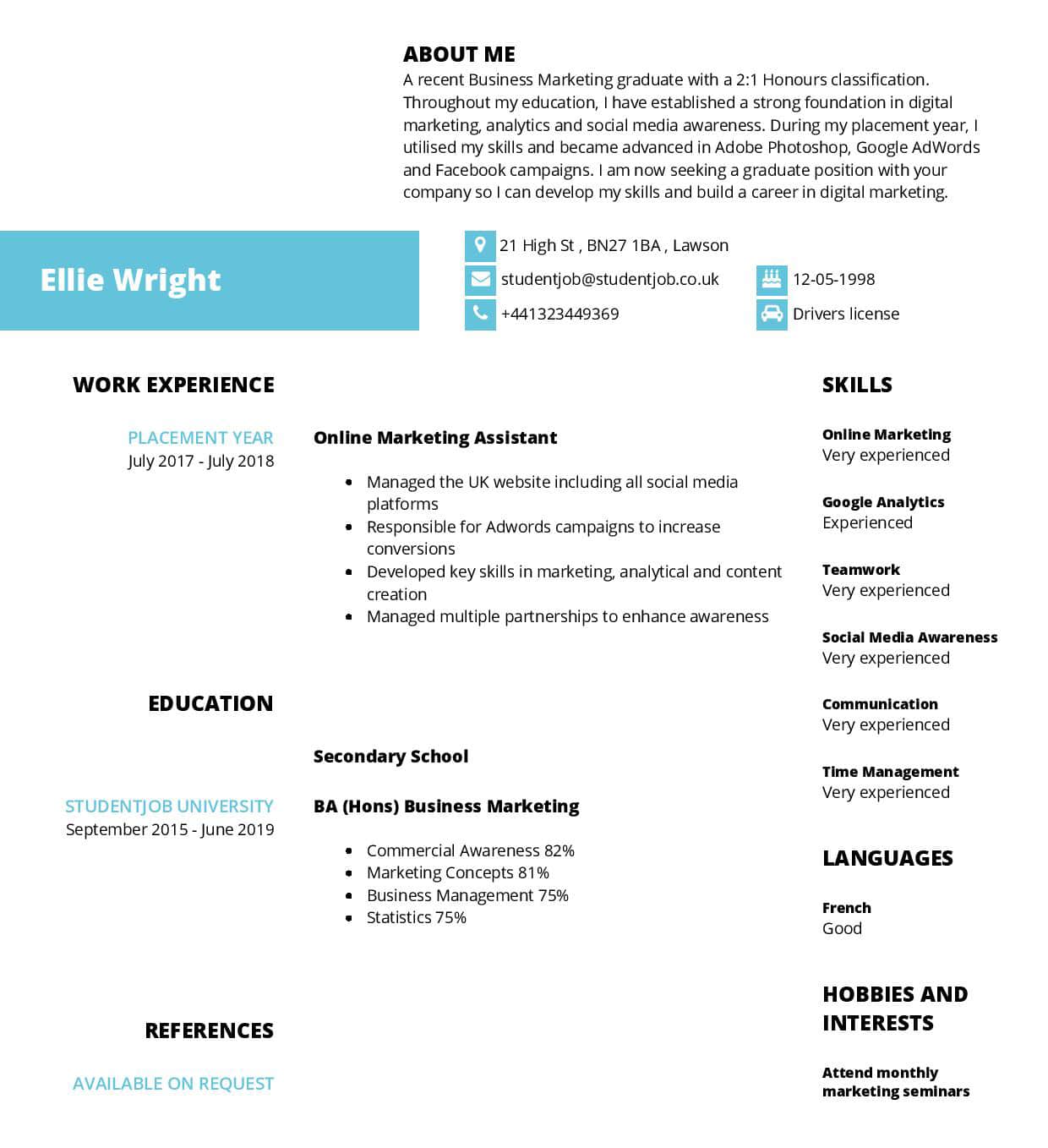 CV example for an internship
When you're applying for an internship, you'll likely not have too much job experience, nor have you finished your degree yet. In this case, spend a bit more time on your personal statement. Here you can really tailor your CV to the industry or company you're applying to.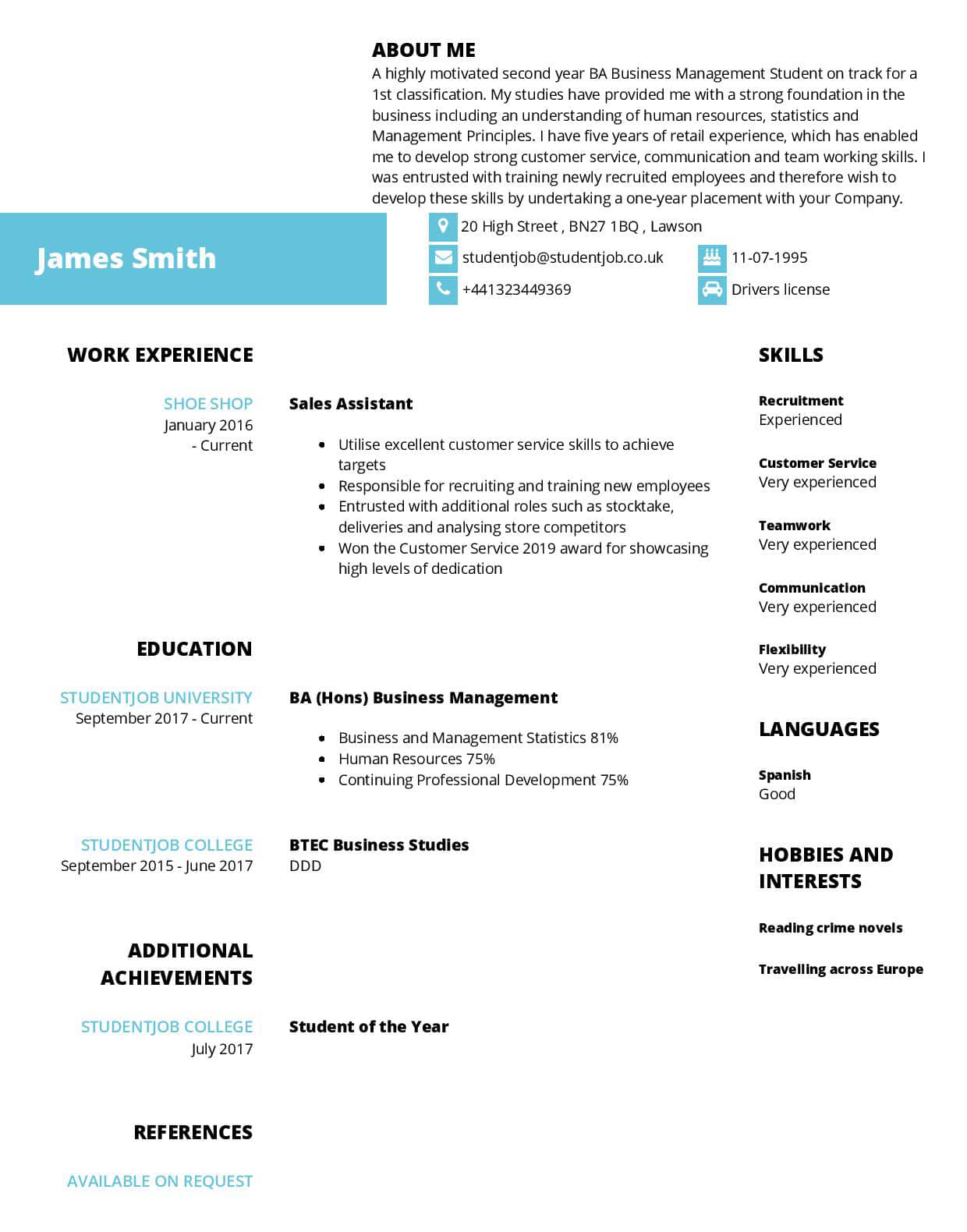 CV example for a first job
This is a CV example for a starters position. It's short but sweet, concise and professional. With this layout, the employer can see who you are and what you can do at a single glance.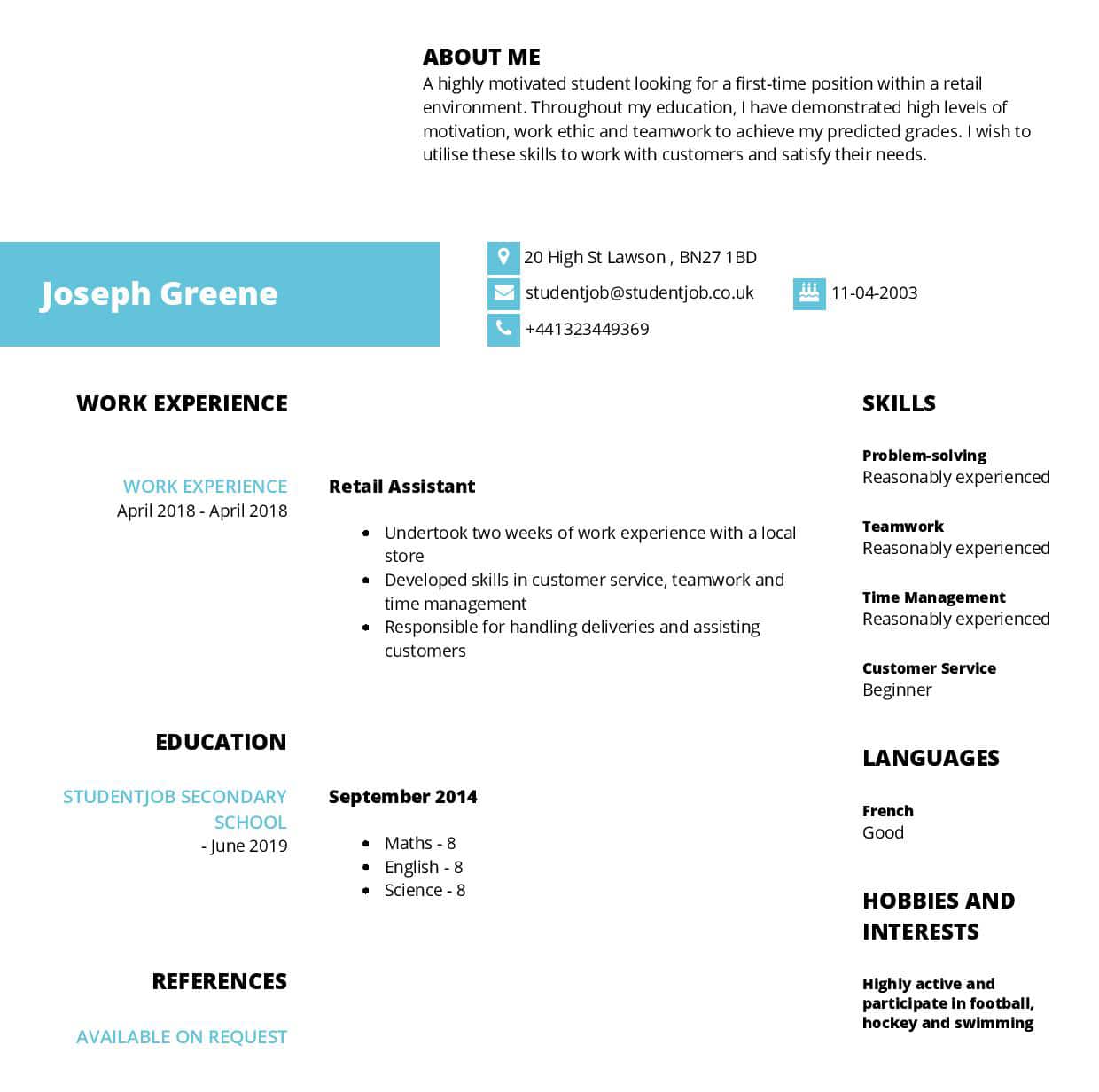 Would you like some help creating your own CV? Visit our very own CV-builder.