When applying for a job, having a creative CV can instantly boost your chance of getting an interview. Picture this: you're making a CV, an intimidating challenge in itself, and your finished product looks like a bland bullet point list. You know that it will ´do the job´ when applying to roles, but don't you want it to stand out? Your main goal when creating a CV should be to make yourself seem the best possible candidate. The best way to do that and create a long-lasting first impression is to make your CV creative.
This article will explain what makes a creative CV, how to write a creative CV, what makes your CV creative, and will give you some examples too. A CV can be really fun to create and if you follow these steps you too can create a creative CV you can be really proud of. Once you've finished the article, make sure you put your new creative CV to good use and apply to our vacancies.

What is a creative CV?
To put it simply, a creative CV is one that steps away from the traditional, text-only CV and instead adds creative elements into the mix. Some might think creative CVs are only required when applying for roles that need you to demonstrate artistic skills, but this is not the case. Recruiters will only spend between 5-8 seconds looking at your CV in a hoard of hundreds. Making your CV look good will be vital if you're looking to stand out in a busy job market, and making the right first impression through a creative CV is an ideal method of achieving that.
So what's the difference between a normal and a creative CV? For starters, the content of the CV is still the most important factor in a creative CV. Make sure you begin by gathering the contents that you want to incorporate into your CV. You might want to include:
Your education;
Work experiences;
Hard and soft skills;
Any extra-curricular activities you enjoy.

You might also want to include a career objective if you wish. Think about how you can creatively represent these elements visually but make sure your contact details are easy to spot on whatever design you choose. If you need any extra tips on CV writing, check out Jobbirds CV guide.
Once you have made an informative and enticing piece of content about your working life, it's time to spice it up. A creative CV doesn't mean you need to turn it into a pop-up book (although you can if you want to). It can be as simple as using different fonts and adding colour to make it aesthetically pleasing. There are a number of points to bear in mind, however:
Make sure important details don't get lost in the design and you stick with easy to read fonts as recruiters won't appreciate something they can't understand.
A creative CV should reflect your true character and experience in an inventive way.
Your ultimate aim should be to come across as a professional, rather than gimmicky and always keep the company you're applying to in mind.
How to make a creative CV layout
So now you know what a creative CV is, how do you make one? Start with writing down what you want to convey with your creative CV design. If you're applying for a job in a creative field, this kind of CV is a must for those that want to bag the best opportunities and you will have the freedom to really express yourself.
If you're applying to a more corporate role, employers may also be impressed by the ingenuity of making your CV stand out and will appreciate the fact you went above their expectations of a job application. But you'll need to be careful on how far you want to take the design and making sure your CV is relevant to the industry you're applying to is vital.
You will have the chance to showcase not only your creativity and design skills, but also reflect your personality to future employers. You should make sure the layout uses space strategically, as your CV may become too cluttered and hard to read. The design should be easily readable and appealing to the eye to stand the best chance of being successful. This means you should not handwrite your final CV design.
The easiest way to create your CV layout is on your computer. If you want to know how to make a creative CV in photoshop, then apps like Canva, Piktochart and Photopea are all free options you can use to get started. If you just want inspiration then websites like Pinterest have loads of great examples. If you're not comfortable using photoshop or want a simple yet cool CV design, you can also make creative CV designs on Microsoft Word. They offer templates that are simple yet different enough to stand out from your average A4.

Creative CV colours and fonts
A simple way to express creativity and separate your CV from the competition is the use of colours and fonts. There are rules however, you can't just go turn your CV into a Pollock painting with any random colours. The colour you add to your CV should complement the content and need to have a strong contrast for readability. That means not using bright colours on light backgrounds or using colours that will take focus away from what you have written.
Black, white, blue, red and green is all reliable colours to use on your CV. You can use others, but be cautious that most employers will find colours like orange and purple tacky and unprofessional. Try to stick to a colour scheme as well, this will allow you to use more than one colour in a professional-looking way. Have a play around to see what colours work together and try using the same colour scheme on your cover letter to show personality and personal branding to recruiters.
The font size should be easily readable but not too large, size 11 or 12 are most suitable. Do not use fonts considered strange or difficult to read as your creativity should not get in the way of the CV content. Keep it simple by using clear fonts such as:
Arial;
Helvetica;
Calibri;
Times New Roman.
4 Creative CV ideas
If you want to really think outside the box compared to other candidates, take inspiration from these 4 ideas that push what a CV can be.
Video CV
One sure-fire way to make your application stand out is by creating a video CV. A video CV is a short description of oneself recorded on camera. In the video, the candidate explains why they are worth hiring and how they would benefit the company. This is not a replacement for a text CV, but a supplement that will instantly boost your chances of getting an interview if you make it professional and relevant to the job you're applying to. Being imaginative with the video will elevate your CV and will help you to express yourself better than a piece of A4 paper ever could.
Infographic CV
Becoming increasingly popular in recent years, an infographic style CV can allow you to be creative, fun and informative all in one. An infographic makes minimal use of text and can be a powerful tool for simplifying information. The use of images on an infographic can make what is an abstract idea that much easier to understand. You will have the freedom to really express yourself through an infographic and those with a visionary mind will thrive using these. It is imperative that the information you try to present in your infographic is not only clear but compelling too. You won't have much space for information so making sure the content is compelling should be your priority when creating your own. Websites like Vennage have infographic making tools if you need help.
Using actual items as a CV
Being creative doesn't have to mean being artistic or a design expert, sometimes it just takes thinking outside the box. Replacing a traditional CV with an item like flowers or doughnuts with a brief resume attached and delivering it by hand will leave a memorable first impression on the company. Showing commitment to go the extra mile will always be appreciated by employers and can physically demonstrate your eagerness and commitment, in an age where 99% of today's applications are digital. Obviously, this is an expensive method of getting your credentials into the job market, and so this type of CV should be reserved for roles you really want and companies that could be hard to impress.
Taking a Risk
Other than doing anything illegal, there are no rules to grabbing the attention of recruiters. This freedom of choice you are given means if you have an idea that's creative, unique and non-traditional, then go for it! The same CV creating guidelines apply as before, but don't feel restricted when making a CV and feel free to try whatever you're capable of doing. An example of this type of CV is Eric Gandhi, who applied for a role at Google by making his CV look like a Google search page. Within 30 minutes of applying with this CV, Eric got a call for an interview and was offered a position, his CV can be seen in the examples. This is a high-risk high reward strategy that a lot of employers may not appreciate but in certain fields like graphic design, a creative CV with this kind of divergent thinking could land you job interview after job interview.

3 Examples of creative CVs
If you are still not sure what a creative CV would look like, or you just need some inspiration, then check out these three creative CV examples: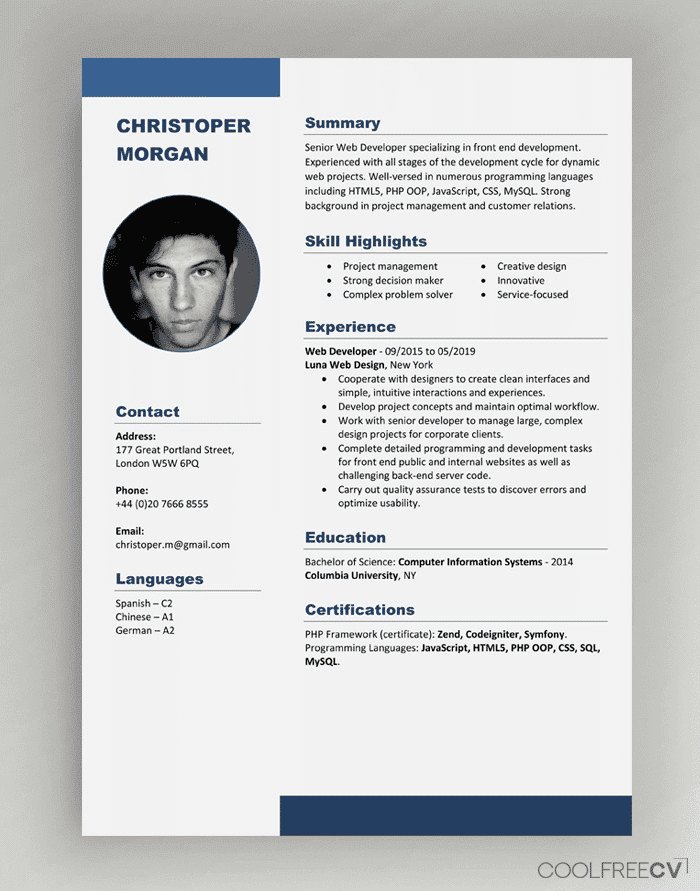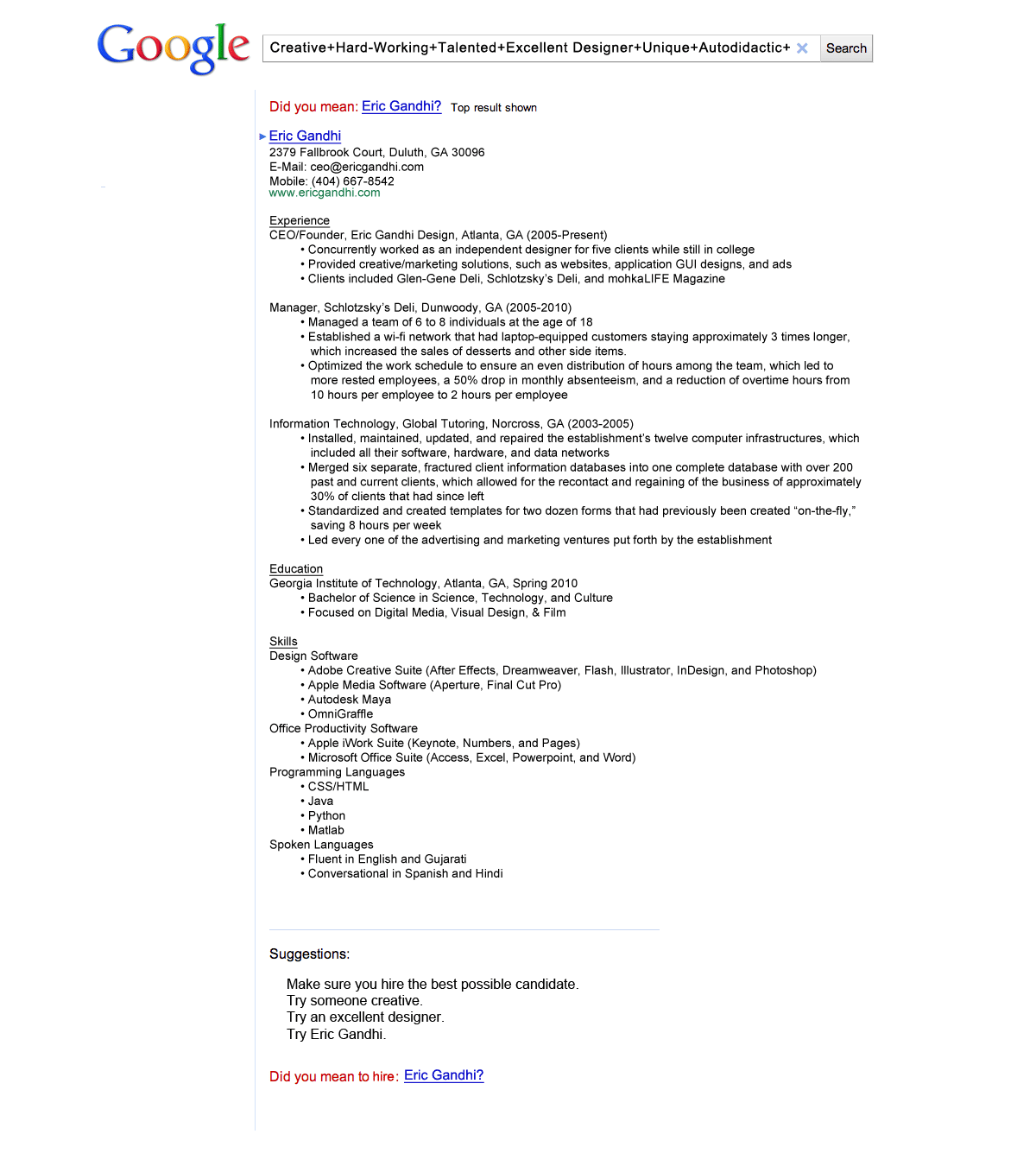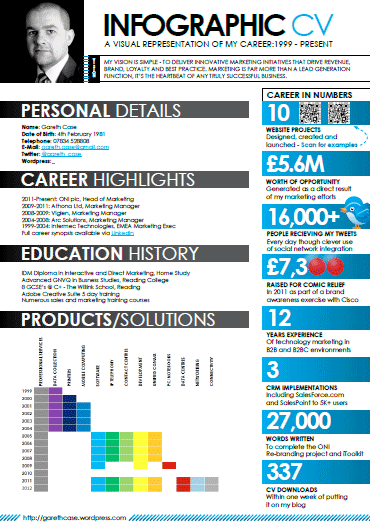 Where to find creative CV templates
If you're interested in doing your own creative CV designs but don't know where to start, then using creative CV templates can be very helpful. You can use templates as a starting point or simply put your content into the template design. Websites, where you can get free creative CV templates, include Canva, Creative market and as previously mentioned, MS Word.
Now you have your creative CV, it's time to start applying! Remember to adjust the content for each job you apply to, as this will give you the best chance of success in landing an interview. If you would like to know how to ace the next stage of the job application process, the interview, then Jobbird also has you covered. Or check out Jobbird's other effective application tips to become a job application expert.